Her den 7 april blev den seneste opdatering til SiteCatalyst v14.9 rullet ud. Den indebærer bl.a. at UI har ændret 'look and feel' så det nu ligner SiteCatalyst v15, som pt. kører i beta. Det nye 'look and feel' betyder desværre ikke, at du er blevet opgraderet til v15 – du kører stadig v14.9!
Som en kort sidebemærkning, så kører SiteCatalyst v15 på en ny platform og det kræver derfor at eksisterende kunder migrerer til v15 – du bliver ikke automatisk opgraderet. Men det kan du læse mere om, hvis du logger ind og læser whitepaper 'SiteCatalyst 15 Upgrade'.
Men hvad så med det Suite panel?
Ja, det er væk. Istedet, så er links'ne til de forskellige produkter blevet flyttet op i den nye menu 'Adobe Online Marketing Suite' og er efter min mening blevet væsentlig mere overskuelig.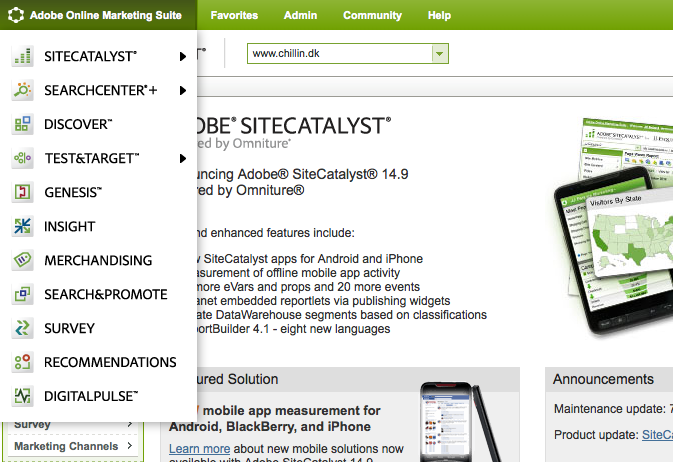 Hvad er der ellers sket?
Udover ændringerne i UI, så har vi også tilføjet muligheden for at 'Override Last-Touch Channel' i Marketing Channel Manager. Men hvad betyder det – nedenstående har jeg kopieret den officielle beskrivelse, så jeg er fri for at oversætte de forskellige termer:
'You can choose whether to override an existing, persistent last-touch channel with the selected channel. If you clear this checkbox, any channel (including Direct and Internal) would override an existing last-touch channel, resulting in conversion being attributed to a channel that might not deserve credit. For example, this option can ensure that the Direct channel does not receive credit for conversion if the user had previously been acquired via the Natural Search channel.'
Som en sidste ting vil jeg nævne min helt egen favorit…nemlig søgefunktionen. Den er blevet opdateret, så det nu er muligt at søge på rapport navne, hvilket gør mit arbejde som konsulent væsentlig lettere. Det er de færreste kunder som ændrer i menu-strukturen – hvilket, hvis du ikke allerede gør det, bør begynde på for at gøre det mere overskueligt for dine brugere.
Men de som gør det gør mit arbejde lidt sværere, da det lige tager noget tid før man finder den korrekte rapport osv. Det løser den nye søgefunktion da man nu kan søge på rapport-navnet, så fremover er det nok for mig blot at vide hvad navnet er og derfor ikke længere behøver bekymre mig om hvordan menuen er blevet ændret.
Du kan finde flere detaljer og fixes i den nye release i den nye help menu: