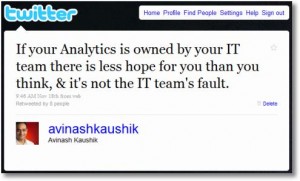 Igennem de sidste 4-5 år har jeg haft fornøjelsen at arbejde med 100+ virksomheder fordelt over stort set alle brancher. Det har været både mindre nationale virksomheder, nogle af Nordens største, til store internationale virksomheder på Fortune 500.
En ting jeg oplever igen og igen, uafhængigt af virksomhedens størrelse, er hvor svært det er for virksomheden at integrere et ordentligt ejerskab af deres Digitale Marketing værktøjer. Dette er absolut den største udfordring jeg oplever for virksomheder idag – uafhængigt af hvor længe de har arbejdet med webanalyse.
Så da jeg for et par måneder siden faldt over ovenstående (gamle) tweet af Avinash Kaushik fra Google Analytics, satte det lidt tanker igang. Der er ikke nogen tvivl om at dette er stort emne at dække og jeg kan på ingen måde dække det ordentlig i et blog indlæg. Samtidig findes der heller ikke nogen facitliste, men jeg vil her komme med mit input til hvor jeg – baseret på min egen erfaring – mener I bedst kan/bør placere ejerskabet over jeres digitale værktøjer i jeres virksomhed.
Uden at fornærme nogen fra IT, så har Avinash ramt hovedet på sømmet. Alt for tit oplever jeg desværre at virksomheder på tværs af alle brancher starter med at lade IT have ejerskab over deres Digitale Marketing værktøjer. Nå jeg kigger på vores mest succesfulde kunder, så er kendetegnet at de typisk har flyttet ejerskabet væk fra IT til en mere passende afdeling. Eller at de allerede fra start af har placeret ejerskabet et mere optimalt sted i organisationen.
Lad mig lige slå fast; jeg siger ikke at IT slet ikke skal være en del af processen – IT spiller stadig en vigtig rolle. Min pointe er blot at ejerskabet, beslutningerne om hvad der skal måles/testes/optimeres, samt implementering af processer i resten af organisationen bør ligge udenfor IT. Det er bare alt for sjældent tilfældet.
Hvorfor virker IT som det oplagte valg?

Implementeringen: Selvom målgruppen for jeres Digitale Marketing værktøjer typisk er e-com og marketing teamet, så kræver det typisk at IT bliver involveret fra starten, da de skal stå for implementeringen. Benytter du f.eks. SiteCatalyst fuldt ud, så kræves der også at IT løbende skal vedligeholde/optimere implementeringen, så det ligger lige til højrebenet at de selvfølgelig skal have ejerskab over det. IT kommer desværre derfor alt for ofte til at fungere som en form for 'gate keeper'.
Centraliseret: IT afdelingen er typisk den eneste afdeling i virksomheden som er centralt placeret, da de på en eller anden har en stiplet linie ud til alle afdelinger. Hvor mange andre afdelinger har det i størstedelen af virksomheder?
Det er egentlig ganske åbenlyst når man tænker over det. Jeg tror bare det overordnede problem er at IT ikke er afstemt med formålet omkring de værktøjer de implementerer. Der er ingen tvivl om at IT's mål er afstemt i forhold til virksomhedens interesser og overordnet mål. Men de er nødvendigvis ikke afstemt og justeret i forhold til slut-brugerens interesser, som sidder med værktøjet. De typiske problemer jeg oplever når Digitale Marketing værktøjer er ejet af IT er:
Business requirements er ikke nødvendigvis korrekte eller ordentlig tænkt igennem og derfor mangler der typisk vigtige rapporter
Implementeringen bliver ofte overdrevet (tracking på alt for at være på den sikre side og så kan business senere sortere i det). Den klassiske jeg møder er "Vi vil gerne tracke alle links på disse sider". Det modsatte kan også sagtens blive et problem – en implementering der ikke er blevet tilpasset til den enkelte side og dens funktioner.
Mangel på inddragelse af selve organisationen (ingen strategi for rapport distribuering og træning i værktøjet)
Hvis ikke IT, hvem så?
Det afhænger fuldstændig af virksomheden og hvordan denne arbejder. Det vigtigste er selvfølgelig at ejerskabet er centralt placeret og afstemt i forhold til at kunne drive business resultater på tværs af hele organisationen. Som sagt, så er der ingen facit liste og vil også være forskelligt fra virksomhed til virksomhed hvad der fungerer bedst. I kan evt. overveje følgende spørgsmål, som kan hjælpe jer på rette vej:
Hvor lang tid har virksomheden benyttet sig af web analytics og hvordan fungerer det i øjeblikket?
Er der overblik  hvilke ting der bliver tracket eller er det ét stort rod.
Hvor moden er den analytiske kultur i organisationen?
Hvor højt op i organisationen er der fokus på det analytiske.
Hvem godkender ændringer til jeres site?
Dette er mere relevant end du umiddelbart skulle tro. Typisk så sidder du som web analytiker og sender rapporter til personer, som ikke kan godkende ændringer på jeres site. Så det er vigtigt at få inddraget den stakeholder som sidder på magten.
Hvilken organisationsmodel fungerer bedst i jeres organisation? Centraliseret? Decentraliseret?
Centraliseret hvor der er ét analytisk team, som servicerer hele organisation – lige fra ad hoc rapporter til hvornår du må gå på toilettet. Decentraliseret, her gør hver afdeling hvad der nu engang passer dem.
Jeg er ikke i tvivl om at der er en del virksomheder som er løbet ind i problemerne beskrevet ovenfor. Måske kan du genkende ovenstående fra din egen virksomhed, men har måske ikke været klar over hvad det har skyldtes.
Som sagt, så er der ikke nogen facit liste, så del endelig hvordan i gør det hos jer – hvad fungerer og hvad fungerer ikke? Kæmper i med nogle bestemte udfordringer?